Universal Antiage Treatment: Antiageing. Moisturizing, Sebum-balancing, Revitalizing
ABT1.0 Professional is the face professional antiageing treatment, which completes the revolutionary ABT1.0 home-care project.
ABT1.0 Professional combines Acqua BioTecnologica®, main ingredient of ABT1.0, with a selected blend of Fine Chemical Compounds: vegetable clinically ingredients tested, extracted with a fine technology and highly purified. Their actions are powered by Acqua BioTecnologica®, performing nourishing, brightening, astringent, filling, sebum-balancing, bio-balancing and anti-stress of sensitive skin.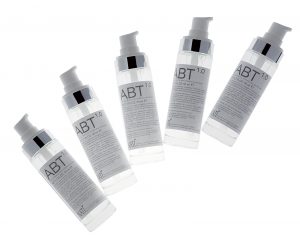 ABT1.0Professional has two boxes:
ABT1.0 Professional 

30

 [2 professional treatment + 30 day-home-care].
ABT1.0 Professional 

15

 [1 professional treatment + 15 day-home-care].
NATì OPERATIVE SYSTEM
It is the method used during Natì professional in-institute treatment and it has three different phases:

ABT1.0 Professional Treatment video tutorial.
Suggested Products